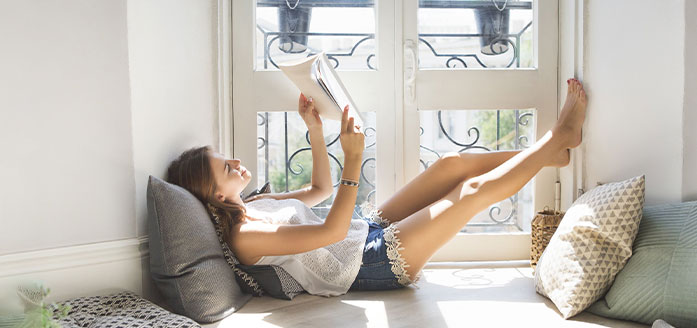 Creative Ways to Fight Boredom
At some point in time, everyone gets bored and needs some refreshment that can help them focus on work and be productive again. Work is tiresome at times, and you need to get out of it to don't become fatal. You have to find some creative ways to fight this boredom in this chaotic environment. Overcoming boredom is a delicate task as you have to think creatively about how you can pass your time and enjoy it simultaneously. But, amidst all those challenges, you have to find some fun ideas to enjoy and be content with. 
Read this: Must-Have Travel Essentials
List Of Ways To Fight Boredom
Don't worry; we are here to help you find some ways to kill your boredom effectively. Let's have a look into it.
Listen to some music.
Music has a way of healing everything. Listening to good music will make you feel fresh and content. It will help you find peace, and you might groove with the rhythm. Whenever you think you're stuck at some work, you should put on some music to make you feel relaxed and pass your day on a good note. Create a playlist and enjoy your favorite songs.
Explore the creative side of yours
Whatever your hobbies are, catch onto them and start giving them some time. Whether dancing, singing, cooking, reading, etc., you have to engage yourself in it and go on a mental vacation. Try digging out your artistic side and showing your creativity to the world. 
Find ways to be productive
You can enroll yourself in some creative classes and at the same time enhance your productivity. This way you'll learn something new and also be proud of it. Look out for good courses or online classes which interest you, and this will keep your mind active. 
Play a game
There are so many games you can play online and with friends. If you're at home, try playing board games or video games with your family, and if you want to play with your friends, you can have multiple games to play online. This will pass your time, and you can have fun meanwhile. 
Netflix and Chill
This has been by far the best way to deal with boredom. You can always start with a series and watch 2-3 episodes to freshen you. Of Course, you don't have to overdo it. You don't have to be productive while you're bored; instead, you can always binge-watch your favorite series and let this recharge your health. 
Connect with others
Everyone might be busy, but you always have someone to call and talk to. Call them and talk about random things that interest both of you. This is the best way to connect to your long-lost friends or family members. You can have quality time with them while enriching your relationship. 
Let your mind relax and bring out the best in this boredom. You can always hop on our above-stated ideas, kill your boredom, and do things you have wanted to do. Either way, you'll be content and have a peaceful mind vacation. 
Also read: How books are our Best Friends